A Splendidly Pot Pourri Day !!!
T
oday was a glorious pot pourri day; one of those days you simply want to share with the whole world ! (*and according to the sitemaster there are folk in Canada, USA, UK, Sweden, Europe, Aussie, South Africa and New Zealand who have read my blog.)
It's the universality
and cosmopolitanism of Auckland that I love. I work with colleagues from various cultural backgrounds, and likewise have clients of different cultures. These include Maori, Kiwi, Pasifika (Samoan, Tongan and Cook Islanders) Indian, Asian (Chinese, Korean, Filipino,Taiwanese and Japanese) British, German, Dutch, Turkish, Argentinian, Zimbabwean, South African and more.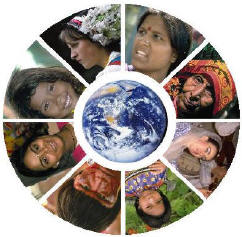 'Culture

Auckland is the melting pot of the Pacific, a blend of the modern laced with the traditional beauty
of Maori culture, spiced with flavours from the Pacific Islands, Asia and Europe. Don't expect the
rich history and architecture of the Old World, but rather be open to absorbing a fresh and vibrant
culture which draws its strength from the beauty of the land and its warm friendly people.
Recently there seems to be a distinct Hobbit and Orc influence.




Auckland's large student population brings a buzzing vibe to the city. Festivals of art and culture,
such as the Chinese lamp festival are all well advertised and a great events to enjoy. You can
find live music playing at venues throughout the week - from jazz to rock to hip hop there's always
somewhere to go that will leave you with a big smile and a happy buzz.




Visual arts are on show at the city's numerous galleries, the largest of which are the Auckland Art Gallery. More modern art-works can be found next door at the New Gallery. To get a feel of New Zealand's past the Auckland Museum is a must. Exploring around Auckland you will find that you constantly stumble across private art galleries, studios and arts & crafts shops with very

distinctive flavours.




You could say that New Zealand is pretty sports mad. When it comes to rugby, well lets just say
that you get strange looks from locals if you're not up to play with latest games. Always
worthwhile to check out a sporting event, be it rugby, cricket or netball. New Zealand has a
number of top fashion designers, many of which are gaining international reputations. You can
see much of the latest fashions displayed in central city stores, or if you're up for an adventure
and a unique experience you can head to Onehunga or the Otara flee markets. Always a great
experience for Pacific-flavoured crafts and good bargains.'




quote from www.auckland-life.com/culture


























I co-ran my Parents' Group today.

We have parents of Maori, Kiwi, South African, British, Irish, German, Malaysian, Indonesian and Japanese in our group which makes for a rich interchange of ideas about parenting. What I have valued about these parents is their warmth, tolerance and non-judgemental philosophy, as well as for some, their courage or resilience in the face of adversity.
After the intensity, combined with the thrill and adrenalised emotions of the course, I toddled up to the 'South Africa Shop' just up the road (easily identifiable, with its SA flag proudly waving in a gentle pavement breeze), and came home laden with authentic and tasty rare salted biltong, Mrs Ball's Peach Chutney and Royco Bobotie and Malay Curry sauces. Oh, and my yummy Wilson's toffees that I used to eat as a child.
A Kiwi lady walked in and asked for those 'twisted sisters', farmers' sausage and red tea.... (koeksusters, boerewors and rooibos !! )
The shop's manageress
,
who hails from Krugersdorp, said that the locals love the Saffer food, especially the boerewors, which they're currently running a competition about in order to give it a special name, as they feel it is becoming renowned. I entered the competition and called it
'Lekker'.
What other word could better describe really good Saffer boeries ? (
Your're welcome to leave a comment below, with your name,email and a Boerie name for me to leave at the shop ! If you win the competition, we'll keep it in the freezer until you arrive :)
)
Travelling home I was suffused with love for the world and all the planet, and was humming Michael Jackson's song about the whole human race...I arrived home to my wonderful Saffer husband and Kiwi dog, (the latter who is actually British cross Chinese, being a Jack Russell cross Shitzuh), called my Saffer/Kiwi daughter and emailed my Saffer sons and Saffer, Brit and American sibs.
And then I thanked our universal gods for universal love and ubunthu.
And I reflected, and thought that that was
what one calls a day
well spent.
QUOTE FROM WIKEPEDIA

(dated ?) ' The
Demographics of New Zealand
encompass the gender, ethnic, religious, geographic, and economic backgrounds of the 4.4 million people living in
New Zealand
.
New Zealanders
, informally known as "
Kiwis
", predominantly live in urban areas within the
North Island
. The four largest cities are
Auckland
(with one-third of the countries population),
Christchurch
,
Wellington
and
Hamilton
. Few New Zealanders live outside the main North and
South Islands
.
Waiheke Island
(near Auckland) is easily the most populated smaller island with 7,689 residents, while
Great Barrier Island
, the
Chatham and Pitt Islands
and
Stewart Island
each have populations below 1,000. New Zealand is part of a
realm
and the most people born in the realm's external territories of
Tokelau
, the
Ross Dependency
Cook Islands
and
Niue
are considered New Zealanders. In 2006, more people who identified themselves with these islands lived in New Zealand than on the Islands themselves.
The majority of New Zealand's population is of
European descent
(69 percent), with the indigenous
Māori
being the largest minority (14.6 percent), followed by
Asians
(9.2 percent) and non-Māori
Polynesians
(6.9 percent). This is reflected in immigration, with most new migrants coming from the United Kingdom and Ireland, although the numbers from Asia are increasing. In 2001 an estimated 460,000 New Zealanders live abroad, mostly in Australia, representing nearly one-quarter of the highly-skilled worker force. The largest Māori
iwi
is
Ngapuhi
with 122,211 people or 24 percent of the Māori population. Auckland is the most ethnically diverse region in New Zealand with 56.5 percent identifying as Europeans, 18.9 percent as Asian, 11.1 percent as Māori and 14.4 percent as other Pacific Islanders. The ethnicity of the population aged under 18 years is more diverse (72 percent European, 24 percent Māori, 12 percent Pacific and 10 percent Asian) than the population aged 65 years or older (91 percent European, 5 percent Māori, 4 percent Asian and 2 percent Pacific). Recent increases in
interracial marriages
has resulted in the more people identifying with more than one ethnic group.'